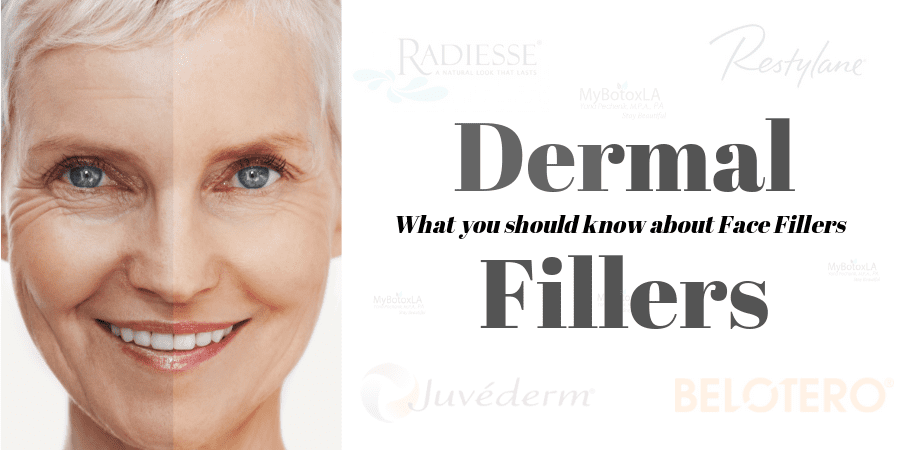 What are face fillers?
Dermal fillers are facial injections placed under the skin
to plump, smooth fine lines, and soften creasing. Facial fillers can
also be used to contour the face, enhancing your cheekbones and jawline. If you want to rejuvenate your face without experiencing any downtime, facial fillers are the best treatment to have.
Dermal fillers are commonly used on wrinkles. As you age, collagen
and elastin production slows down, causing your skin to become prone to
sagging, fines lines, and wrinkles. Loss of fat in the cheeks is major factor in facial aging.
What are dermal fillers made with?
Dermal fillers are made with a range of FDA approved products. At Balencia Med Spa, we use Juvéderm, Restylane, Radiesse, and Belotero.
Juvéderm, Restylane and Belotero contain hyaluronic acid. Hyaluronic
acid is a substance which naturally occurs in your skin, helping to keep
it plump and hydrated. Skin fillers made with hyaluronic acid have a
gel like appearance and they may use lidocaine to reduce any discomfort
during or after your treatment.
Radiesse is made with calcium hydroxylapatite, another substance
which naturally occurs in the body. Calcium hydroxylapatite is found in
the bones, but it's used in skin fillers alongside a smooth gel.
Radiesse has a thicker consistency than hyaluronic acid facial fillers,
and they last longer too.
The type of dermal filler you choose will depend on your skin issues.
How long do filler injections last?
How long filler injections last depend on the type of dermal filler you receive. Radiesse and Juvederm Voluma can last for more than a year. Fillers used on lips and around moth can last between 6 months to a year.
How much do dermal fillers cost?
The price of your dermal filler treatment depends on the type and amount of
the filler used. Pricing is based/syringe.
Are there any side effects of derma fillers?
If you're considering face fillers, it's important to know any potential side effects which could possibly occur.
Common side effects may include:
Bruising
Swelling
Redness
Itching
Pain
Serious side effects are rare but can happen if filler is injected accidentally into a blood vessel. It is very important to choose an experienced provider to minimize these risks.
Dermal fillers are not suitable for anyone who is under 18, pregnant
or breastfeeding. If you feel you may be allergic to any of the
ingredients used within face fillers.
Request
your free
CONSULTATION