Body Sculpting refers to aesthetic treatments that eliminate fat cells and achieve a slim, more sculpted body. There are different types of fat reduction treatments available to choose from. These treatments can be non-invasive, minimally invasive or surgical.

Coolsculpting and Emsculpt Neo are the two leading non-invasive bodysculpting treatments. Coolsculpting kills fat cells by freezing them whereas Emsculpt Neo uses Radiofrequncy energy to kill fat cells. In addition, Emsculpt Neo uses electromagnetic energy to build and tone muscles and kills visceral fat. Emssculpt Neo also helps with tightening skin.
Morpheus Body is a minimally invasive procedure that uses radiofrequency micro-needling. Morpheus Body can be used in areas that can not be treated with Coolsculpting or Emsculpt Neo. Morpheus body can also be used to enhance results of Coolsculpting and /or Emsculpt Neo. It will lead to further weight loss and is one of the best procedures for skin tightening
Which Fat Reduction Treatment is Right for You?
With wide variety of latest technology available, we are able to customize treatment based on your unique needs. Whereas Coolsculpting is perhaps the best non-invasive fatloss treatment, Emsculpt Neo offers multiple benefits. In addition to fatloss, it also helps build muscle, tighten skin and help with intra-abdominal fatloss. Emsculpt Neo helps with diastasis recti- a condition common in pregnancy that reults in a weak abdominal wall.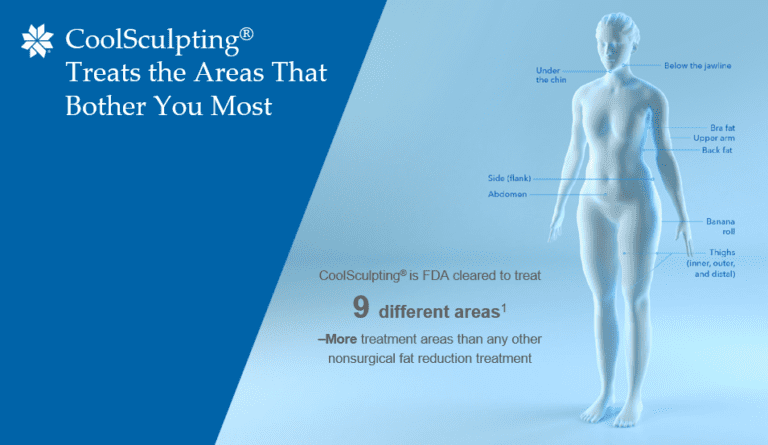 Coolsculpting is a gentle way to reduce fat and target specific areas of the body. This non-invasive procedure can result in a noticeable, natural-looking fat reduction in the treated areas without the need for needles, incisions, cannulas, anesthesia, or pain medication.*
CoolSculpting is an FDA cleared, non surgical method to effectively reduce the visibility of those stubborn pesky bulges. Developed and proven by Harvard Scientists, CoolSculpting safely targets unwanted fat cells by cooling them while leaving surrounding tissues and cells unharmed.
Individual results may vary.
Coolsculpting Before & After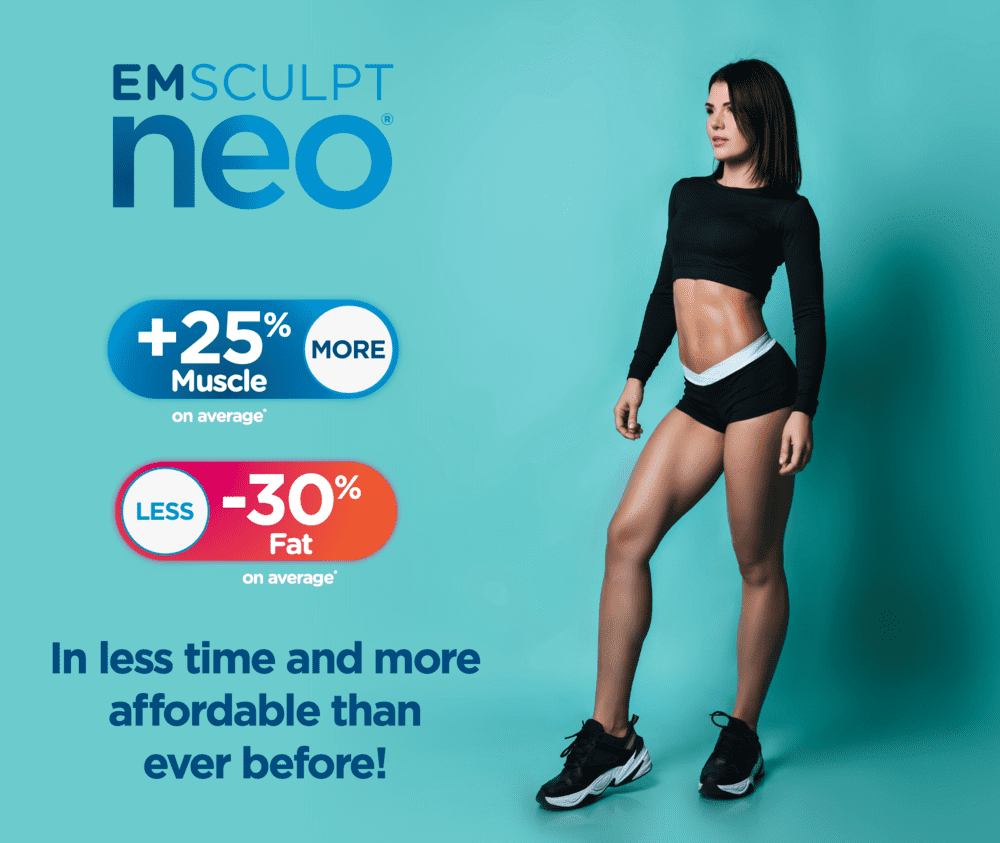 EMSCULPT is the first device to build muscle and sculpt your body. Through the high intensity electromagnetic therapy procedure one can enlarge current muscles, as well as grow new muscle fibers. The Emsculpt procedure is currently FDA cleared to treat your abdominals, buttocks, arms, calves and thighs. A great non-surgical alternative to the brazilian butt lift. Four weekly treatments with Emsculpt Neo have shown 25% increase in muscle mass, 30% sub-cutaneous fat loss and 17% visceral fat (internal fat around organs) loss on average. A special protocol is used on buttocks to avoid fatloss.
How does Emsculpt Neo work?
Emsculpt Neo works by emitting synchronized RF (radiofrequency) and HIFEM+ energies. The radiofrequency heats up your body's cells quickly, causing permanent damage to fat cells that are then eliminated by the body. The HIFEM+ energy causes your muscle fibers to contract. This extreme stress forces the muscle to adapt and build new muscle fibers in order to do so.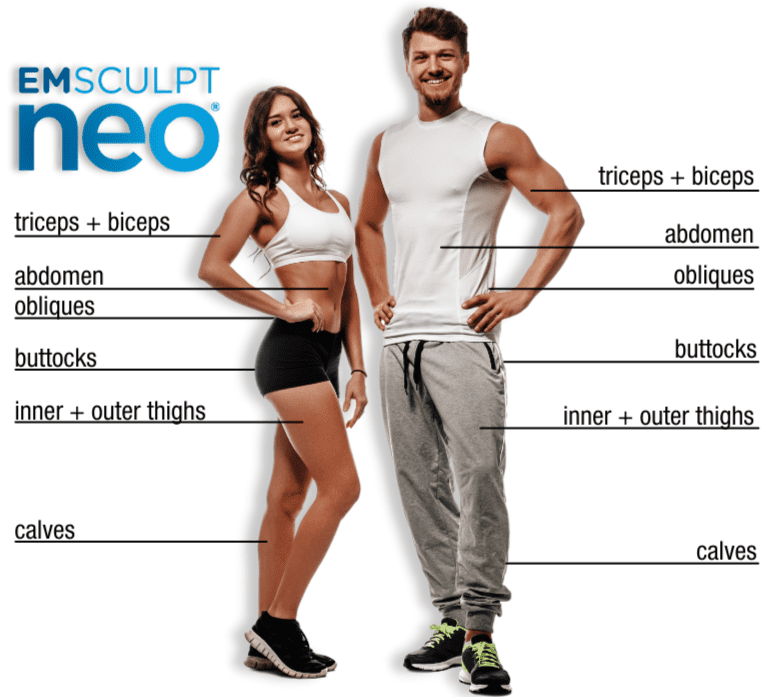 Emsculpt Neo - Before & After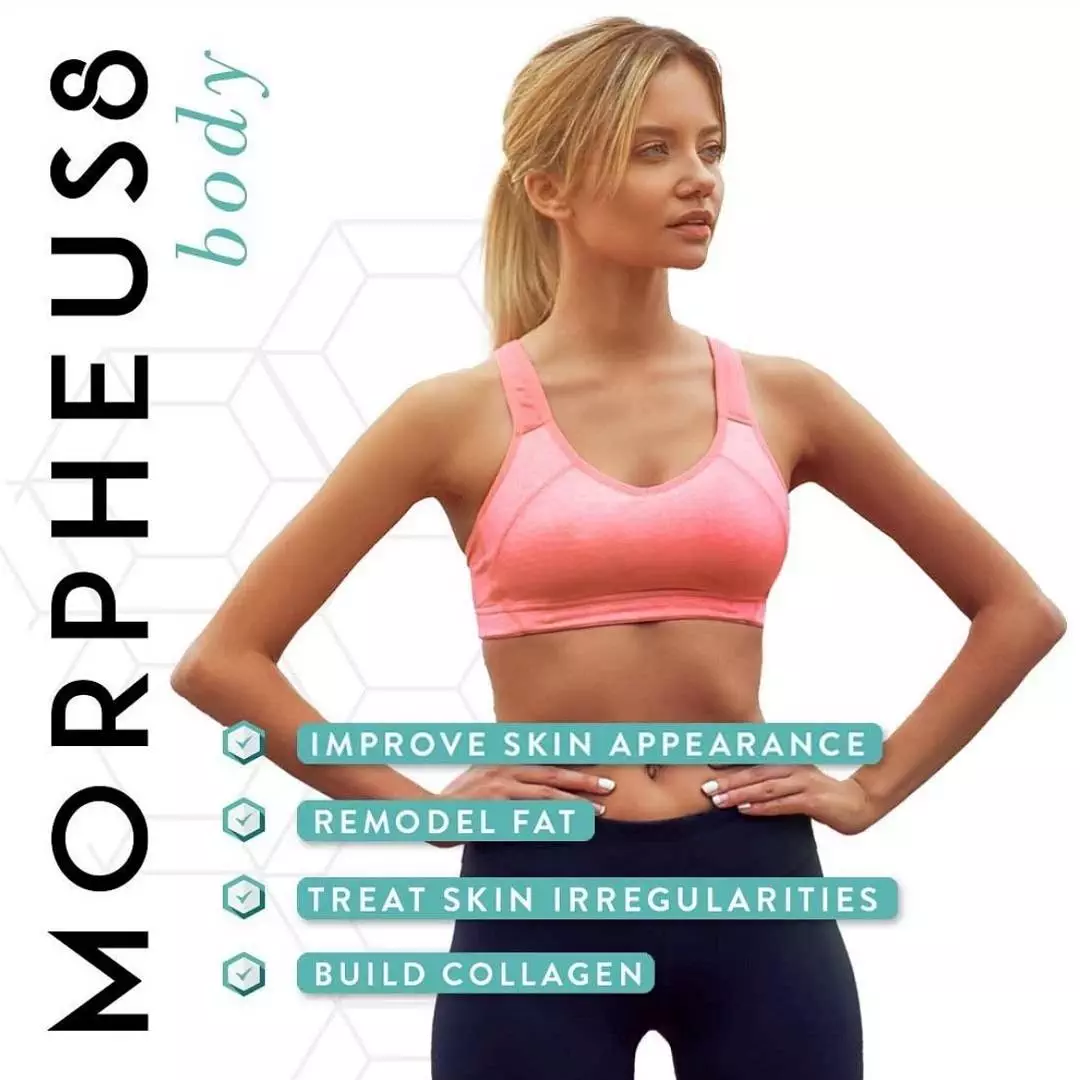 Morpheus8 (M8) Body is the latest radiofrequency microneedling technology FDA approved for deep tissue remodeling. This minimally -invasive treatment tightens skin, liquefies fat, and reduces the appearance of cellulite, all while improving the overall tone and texture of the skin.
Using the deepest fractional technology available, Morpheus8 for Body is a fractional remodeling and contouring treatment that addresses the underlying tissues and creates new collagen production.
With 3D Smart Frame and Burst technology, the Morpheus Body utilizes a unique large surface tip consisting of a matrix of 40 thin gold-coated microneedles and a thermal profile of 7mm + an additional heat profile of 1mm, Morpheus8 Body can quickly treat large tissue areas at the deepest levels of RF available.
Request
your free
CONSULTATION